Yi people's fair held in Yunnan to greet Lunar New Year
Publication time:2020-01-11  | Author:Christine, Kylie
Kai Xin Jie, also known as "Li Xi Li" in Yi language, is popular within E Shan County of Yunnan Province. It is one of the biggest festivals of Yi people for celebrating Lunar New Year. To pray for good harvest in the following year, Yi people usually wear their ethnic costumes and participate in the street performances and activities.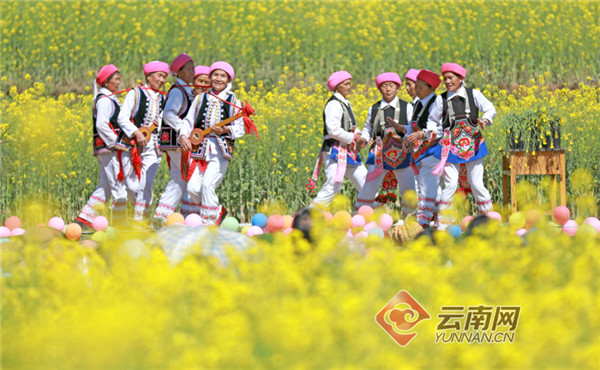 Yi people play performance in rape field [Photo by E Shan financial media center]
On the day of Kai Xin Jie, there are dragon and lion dances, drum dances, martial arts performances, folk song competitions, Yi costume exhibitions, firework party and so on. Meanwhile, a market selling some local products and snacks will be also set up.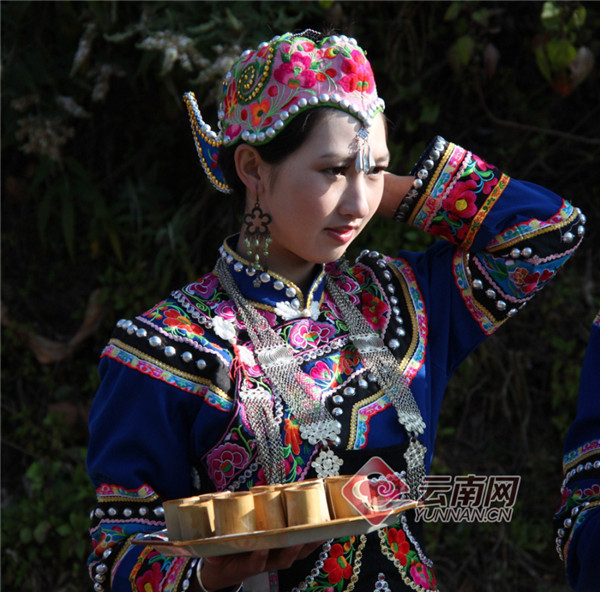 Girls carry wine to meet guests [Photo by Yunfei Bai]
Girls in folk dress carry wine and glasses and meet guests along the main road in the county. They rush up to meet the visitors, and sing cheerful toasting songs to invite the visitors to drink Yi's wine. After that, the street show begins. The cultural performance teams from each village will gather in an open place and start to dress up. A variety of performance teams will stand in a line along the street, and give wonderful folk performances across streets and markets.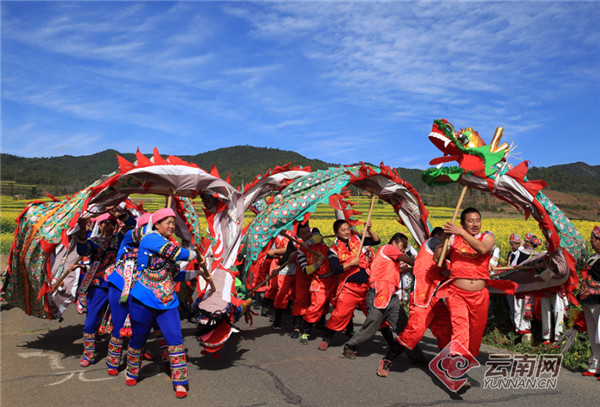 Dragon dance[Photo by Yunfei Bai]
The dragon dance is one of the indispensable artistic performances for Kai Xin Jie. Thousands of dragon dancers will carry hundreds of dragon lanterns from all directions. Normally, men carry the longest dragon while women and children carry the short and small one.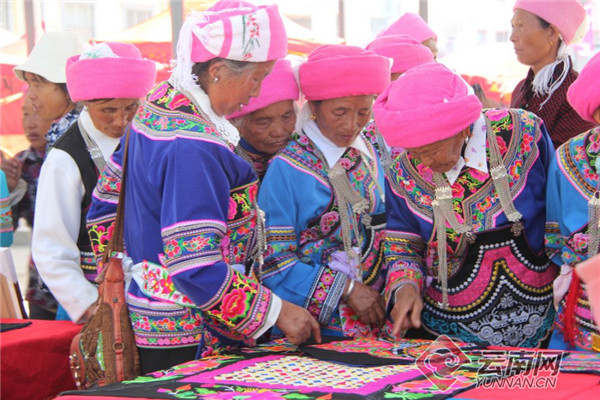 People shopping on market[Photo by Wangshen Long]
If visitors are interested in Yi costumes, they are able to buy the Yi coat, waistcoat, trousers, embroidered shoes, handkerchief, and accessory on the market.
Text from:InKunming
editor: Arzhuodi  |  announcer: Arzhuodi