Yi people strive their way for a better life in Yunnan
Publication time:2019-08-09  | Author:Rachel, Christine
There is a small village named Daxinzhai in Hani-Yi Autonomous Prefecture of Honghe where more than 2,000 people from 586 families are Yi nationality. Most of them are good at singing and dancing. What's more, they acquire high skills in embroidery. They can embroider everything in life on a piece of cloth.
At present, there are 39 embroidery masters and 3 inheritors of intangible cultural heritage, among which Bai Xiaobai and Bai Zumei are the superior ones. Their works are well-known and become a business card of the local intangible cultural heritage.
In recent years, the government has attached great importance to the protection and inheritance of traditional Chinese culture, and has taken measures to transform traditional culture into economic benefits. It has successively supported the establishment of the Nisu Hand Embroidery Farmer Professional Cooperatives (FPCs) and the office for hand embroidery heritage. As a result, with the scale of operation constantly expanding, the economic benefits of embroidery products have increased significantly, making poverty-stricken women of ethnic minorities get richer and richer.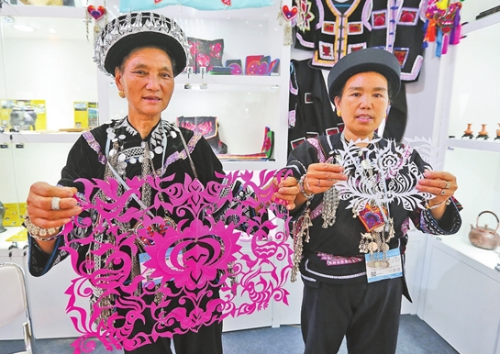 Text from:InKunming
editor: Arzhuodi  |  announcer: Arzhuodi