Nuosu Yi Photo
newstime:2010-07-22 | writer:Stevan Harrell befrom:Admin5 read: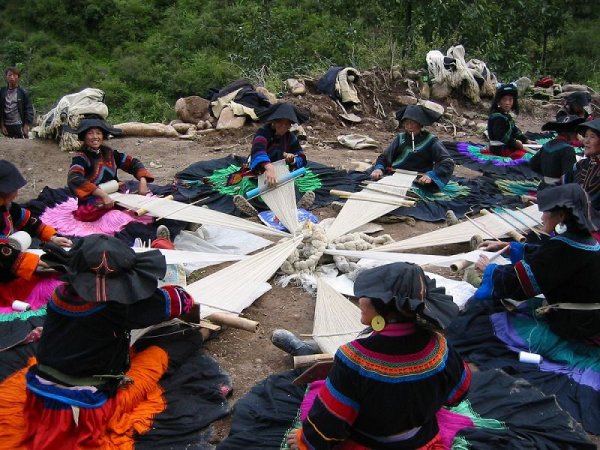 Nuosu Yi 1. Women weaving with backstrap looms. All wear Yynuo-style "lotus-leaf" married mothers' hats and various styles of Yynyo jackets with couching, edging, insets, and embroidery, along with pleated Yynyo-style skirts in contemporary commercial fabrics. Photo by Stevan Harrell.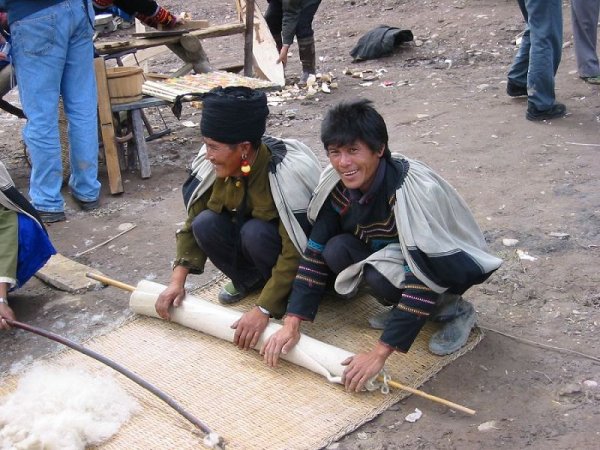 Nuosu Yi 2. Making felt: rolling the felt before final drying. Both men wear Yynuo-style woven wool vala capes. The man on the left has an imitation coral and amber mohne earring and a tradition Yynyo style turban with horn. The man on the right wears a jacket with Shynra-style inset decoration. At the bottom of the picture to the left raw wool is being fluffed with the fluffing-bow. Photo by Stevan Harrell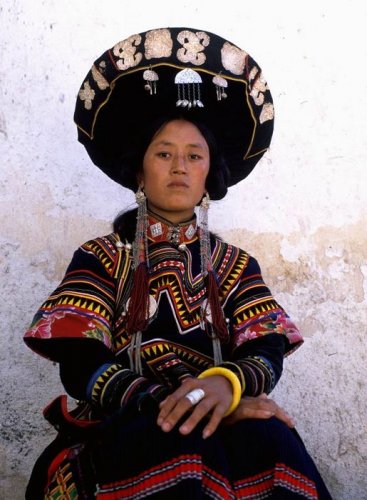 Nuosu Yi 3. A young Suondi mother from Butuo County wears the traditional flat-toped hat with stamped silver plates, the under- and over- jacket comobination, lined with modern print cloth, dangly silver earrings, a woven wool pleated skirt and a saddle-shaped silver ring. Photo by Zhong Dakun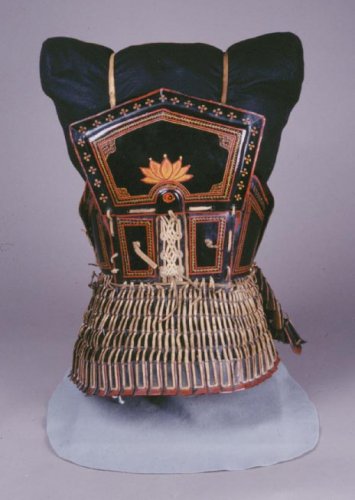 Nuosu Yi 4. Lacquered water-buffalo rawhide armor. Manufactured in late 19th century, rawhide lacing replaced in early 20th century. Black background makes it "female" armor, though it is worn exclusively by men. Photo by John Putnam, copyright Burke Museum of Natural History and Culture, University of Washington.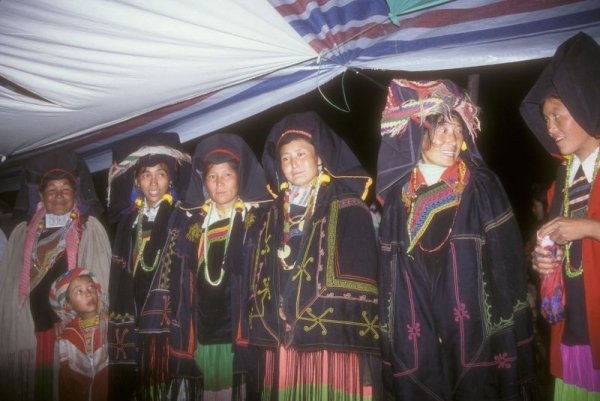 Nuosu Yi 5. Shynra women singing laments at the funeral of an elder. Each wears a pleated skirt, a mother's square-top hat, a fringed woven vala cape, dyed black and embroidered with fern designs or left in natural color wool, and a jacket with couched decorations. The woman in the center has a silver gie collar-buckle, and all have imitation coral and amber mohne earrings. Photo by Stevan Harrell.